Current Events
Planning Commission Meeting Tuesday, June 28th @ 7:00pm
---
Zoning Board of Appeals Meeting Tuesday, July 5th @ 7:00pm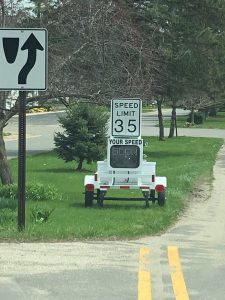 ---
Truck Route Concerns
Over the last several months a few residents have contacted the township office regarding commercial vehicles operating in violation of the township ordinance.  The sheriff's deputies are continuing to enforce the ordinance, however through that process we have discovered some deficiencies in our present ordinance .  We are working with our township attorney to restate our truck route ordinance.  Please bear with us as we work through this process.  I will keep you informed.  Thank you for your patience- Mark R. Bennett TCT Supervisor.
---
---
Township Hall Rental
The Hall is available for all occasions for a fee of $100 for Tallmadge residents. The seating capacity of the hall is 80-100 and a full kitchen is available. Call the Clerk for more information. Park Pavilion will be used on a first-come, first use basis this summer.  We will not be taking reservations for the Pavilion.
---
---
Tallmadge Historical Collection -
Tallmadge Township historical records and documents are available for viewing and to help aid in research at the Tallmadge Township Hall. Information that has been gathered, catalogued and preserved over the years is incredible.
Click here to read more...
---
NOTICE OF POSTING OF THE CURRENT PROPOSED TEXT AMENDMENT ORDINANCE(S)
PLEASE TAKE FURTHER NOTICE that the Ordinance has been posted in the office of the Tallmadge Charter Township Clerk, Tallmadge Charter Township, 0-1451 Leonard Road, N.W., Grand Rapids, Michigan (telephone: 616-677-1248), and on the Township website at www.tallmadge.com
---
Township Officials
---
Mark Bennett - Supervisor
Lenore D. Cook - Clerk
Valdyne R. Schwallier - Treasurer
Clifford Bronkema - Trustee
Michael Eppink - Trustee
Joel Terpstra - Trustee
Dave Datema - Trustee
Tyler Tacoma - Assessor
Greg Ransford - Planner
Township Police Officer Deputy Tim Lewkowski
Monthly Meeting Schedule
Township Board Meetings are held the 2nd Tuesday of every month at 7:00pm.
Planning Commission Meetings are held the 4th Tuesday of every month at 7:00pm.
The Zoning Board of Appeals meets as needed on the 1st Tuesday of every month at 7:00pm.