Current Events
Zoning Ordinance Complaint Form
NEW OPTION!  Follow the link below to begin the process of filing an ordinance complaint with the Township Zoning Administrator.  This form will take you thru the steps to electronically report a zoning concern you may have.  The Township office staff is also available if you have any questions.
---
Township Board Meeting
The monthly Township Board Meeting is scheduled for Tuesday, October 11th at 7:00pm
---
Voting Information
The
General Election
is scheduled for
– Tuesday, November 8.
Tallmadge Township has had to re-align our precinct boundaries so, there is a great possibility that you may have been moved to a new precinct.  You should have received new voter registration cards by the end of July.
Make sure that you double check which precinct you are in!
Follow the link below to give you access to your voting location, times the polls are open, and a view of your ballot. Just Click on "YOUR VOTER INFORMATION", fill in the requested info(name, birth info, zip code) and you should be directed to your information.
NEW Precinct information:
*Precinct 1 –  Tallmadge Charter Township Hall @  O-1451 Leonard Street NW, Grand Rapids MI 49534
*Precinct 2 -   Living Waters Wesleyan Church@ O-1428 Leonard Street NW, Grand Rapids MI 49534
*Precinct 3 -  Lamont Community Church @ 14000  48th Avenue, Coopersville, MI 49404
---
Ottawa County Road Commission Conducts Speed Survey on 8th Ave.
As some of you may remember several residents expressed concern over speeding and traffic along 8th Ave north of Leonard St. Some of the residents spoke during public comment at a Township Board meeting. It was suggested that a request to Ottawa County Road Commission for a speed survey be submitted. As a result of that request a speed survey was conducted in early August 2022.
The speed survey indicated that an 85th percentile speed of 58.9 MPH which is consistent with the 55 unposted speed. Also crash records for 2021 show 10 crashes on 8th Ave between Leonard and Johnson. Seven of the ten of those crashes were car/deer involved, two of ten were impaired driver, and the other was a driver medical condition. All of the crashes were single vehicle crashes.
Based on the 85th percentile speed and crash review, lowering the 55 MPH speed limit would not be warranted at this time. Because of the validated research that is commonly accepted by law enforcement and traffic engineers the lowering of the speed limit does not alone improve traffic safety.
Having said that we will continue to work with the Sheriff's Office for visibility and education of the drivers and enforcement when necessary.
As always please feel free to give me a call. Mark R. Bennett, Supervisor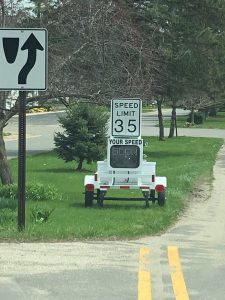 ---
Truck Route Concerns
Over the last several months a few residents have contacted the township office regarding commercial vehicles operating in violation of the township ordinance.  The sheriff's deputies are continuing to enforce the ordinance, however through that process we have discovered some deficiencies in our present ordinance .  We are working with our township attorney to restate our truck route ordinance.  Please bear with us as we work through this process.  I will keep you informed.  Thank you for your patience- Mark R. Bennett TCT Supervisor.
---
---
Township Hall Rental
The Hall is available for all occasions for a fee of $100 for Tallmadge residents. The seating capacity of the hall is 80-100 and a full kitchen is available. Call the Clerk for more information. Park Pavilion will be used on a first-come, first use basis this summer.  We will not be taking reservations for the Pavilion.
---
---
Tallmadge Historical Collection -
Tallmadge Township historical records and documents are available for viewing and to help aid in research at the Tallmadge Township Hall. Information that has been gathered, catalogued and preserved over the years is incredible.
Click here to read more...
---
NOTICE OF POSTING OF THE CURRENT PROPOSED TEXT AMENDMENT ORDINANCE(S)
PLEASE TAKE FURTHER NOTICE that the Ordinance has been posted in the office of the Tallmadge Charter Township Clerk, Tallmadge Charter Township, 0-1451 Leonard Road, N.W., Grand Rapids, Michigan (telephone: 616-677-1248), and on the Township website at www.tallmadge.com
---
Township Officials
---
Mark Bennett - Supervisor
Lenore D. Cook - Clerk
Valdyne R. Schwallier - Treasurer
Clifford Bronkema - Trustee
Michael Eppink - Trustee
Joel Terpstra - Trustee
Dave Datema - Trustee
Tyler Tacoma - Assessor
Greg Ransford - Planner
Township Police Officer Deputy Tim Lewkowski
Monthly Meeting Schedule
Township Board Meetings are held the 2nd Tuesday of every month at 7:00pm.
Planning Commission Meetings are held the 4th Tuesday of every month at 7:00pm.
The Zoning Board of Appeals meets as needed on the 1st Tuesday of every month at 7:00pm.